Jun 25, 2022
Bobby the Barbarian wants revenge after Venger injures Uni the Unicorn. The kids seek Tiamat's help in the Dragon's Graveyard. Only there can they defeat Venger once and for all. But what is the price of "defeating him"? Will they go through with it?
Find out on this week's In the 'Verse podcast. FireflyDrinkingSongs.com.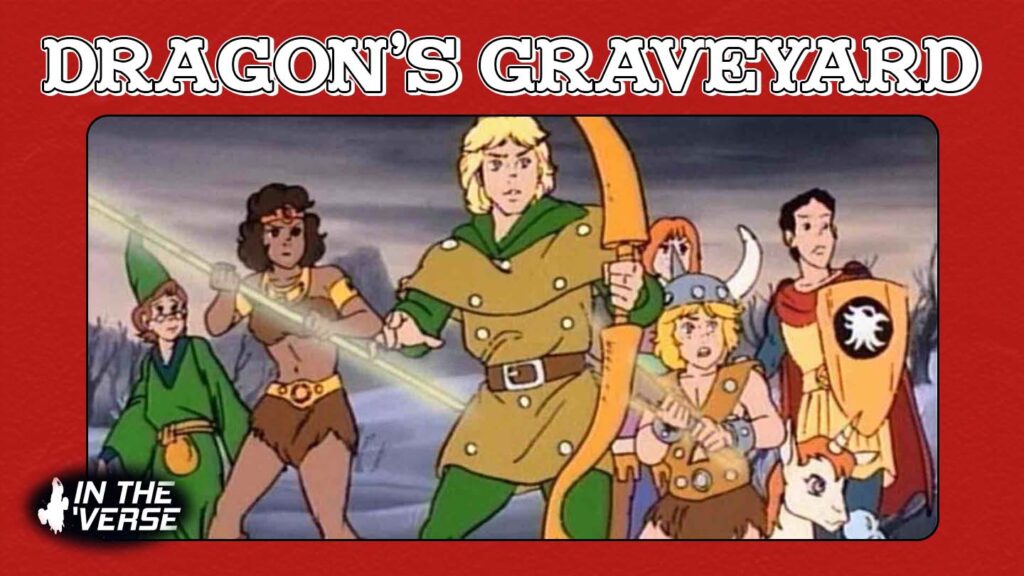 SHOW TIMES
- Upcoming Shows, Marc and Mikey News
- 5-Minute Plot Synopsis / Show Discussion
- This Week's Songs
SHOW NOTES
MARC: Welcome to In The Verse, the podcast that makes music inspired by popular media. I am Marc Gunn, the creator of the Firefly Drinking Songs show and host of the Irish & Celtic Music Podcast.
MIKEY: And I'm Mikey Mason, creator of the Beer Powered Time Machine Podcast and currently the MIKEYtalks podcast.
MARC: This is episode FOUR of our new 10 episode season of the In The Verse Podcast.
Mikey: Since we ran out of episodes of Firefly to discuss and write about, we'll be finding inspiration in episodes of other media; TV shows, Comic Books, Cartoons, but probably not video games.
MARC: As always, you can support us in this and other creative endeavors by supporting Mikey athttp://patreon.com/mikeymason/
MIKEY: And by supporting Marc at http://patreon.com/celtfather
UPCOMING SHOWS & NEWS
MARC GUNN
MAY 20: Ironshield Brewing in Lawrenceville, GA @ 7:00 – 10:00 PM.
MAY 28: The Lost Druid, Avondale Estates, GA @ 6:00 – 9:00 PM
JUN 4-11: Celtic Invasion of Loch Lomond, Scotland
JUN 24-25: Magic City Con, Birmingham, AL
JUL 1-4: InConjunction, Indianapolis, IN
AUG 4-7: Gen Con, Indianapolis, IN. Get tickets now!
EVERY WEDS, Coffee with The Celtfather @ 11 AM ET. Returns in August.
MIKEY MASON
Monthly online shows. May's monthly online show is set for Friday, May 20th at 8pm EST at Twitch dot tv slash comedyrockgeek.
June 3-5 ConCarolinas, Charlotte, NC
June 10-11 - Origins Game Fair, Columbus, OH
June 16-20 - Fear the Con 2022, St. Louis, MO
June 24-26 - Anime Festival Wichita, Wichita, KS
July 1 - The Fickle Peach, Muncie, IN
July 15-17 - PhoenixCon, Appleton, WI
July 29 - The Fickle Peach, Muncie, IN
AUG 4-7: Gen Con, Indianapolis, IN. Get tickets now!
BAND NEWS
Marc: New Star Wars video. New singles, incl. Favor of a Dance coming in June. Pub Songs & Stories is changing to a monthly show with new MP3s from episodes released, plus one private show. Added song lyrics to Spotify. New Album Pins. Working on two albums for this year and a Kickstarter.
Mikey: My Patreon patrons are still getting a new song EVERY Monday - that's 52 songs a year for as little as $1/month (though you're perfectly welcome to pledge more, if you can afford it and want to!) & MIKEYtalks podcast.
PLOT SYNOPSIS & DISCUSSION
MIKEY - Hank, Bobby, Eric, Presto, Diana, Sheila, and Uni.
Dungeons & Dragons is an American animated television series based on TSR's Dungeons & Dragons role-playing game. A co-production of Marvel Productions and TSR, the show originally ran from 1983 through 1985 for three seasons on CBS for a total of twenty-seven episodes. The Japanese company Toei Animation did the animation for the series.
The show focused on a group of six friends who are transported into the titular realm and followed their adventures as they tried to find a way home with the help of their guide the Dungeon Master.
A final unproduced episode would have served as both a conclusion to the story as well as a re-imagining of the show had the series been picked up for a fourth season; however, the show was canceled before the episode was made. The script has since been published online and was performed as an audio drama as a special feature for the BCI Eclipse DVD edition of the series.
THIS WEEK'S SONGS
"Dragon's Graveyard (Sister, Sister)" by Marc Gun
"Birthright" by Mikey Mason
THANK YOU PATRONS
Mikey: Marc and I make our living as full-time musicians. We love creating this podcast and sharing our music for you. But it would be near impossible to release as much great music and podcasts if it wasn't for the generosity of people just like you.
Marc: So if you enjoyed this show, please support what you love. Your generosity pays for the production and promotion of our music and this podcast.
Mikey: Thank you so so much to the amazing Patreon patrons who help keep the music being made, especially Ora M., Rev Chris Adotta Smith, Drk Unicorn, Amy Stuart, Michael Khandelwal, Josh Logan, Ame Morris, Les Howard, Brian Jackey, Jon Haight, John R Woollard. Scot Mealy, Scott & Melanie Wienhusen, Jeremy D Jackson and Jennifer Lewis
Marc: I am extremely grateful to everyone who supports my Gunn Runners Club on Patreon. You are all so generous with your support. Thanks to my newest Patron: Ivan MacKillop, Don Rice, Antonya Pickard
I also want to thank each of these top-tiered incredible patrons: Not Higgins, C.J. Taylor, Sarah Crockett, Bill Mandeville, William McKissack, Brian Morin, Carol Baril, Kurt Goodyear, Miranda Nelson, Jan Czenkusch, Luke Miller, Josh Brown, James ODell, Eric Ray, Les Howard, Scott & Melanie Wienhusen, Tim M. O'Brien
WHAT'S NEXT?
CLOSING NOTES
Marc: Thanks so much for listening. You can download many of our songs when you sign up on our Patreon pages. Find out more about Marc Gunn and Mikey Mason and how to support our music on Patreon.
Mikey: We would love your comments, suggestions, songs and lyrics or links to videos to share in the next show. Use the hashtag #InTheVerse. You can post them on the Blue Sun Tour Facebook page or email mikey@mikeymason.com
Marc: In the 'Verse was produced by Marc Gunn and Mikey Mason. Sign up on our website and find out more about us and the show at http://fireflydrinkingsongs.com